You may come across meta descriptions while searching a keyword on search engines. If you are writing and sharing content online, you may find yourself asking what is a meta description, how is it written and why is it important.
To answer your queries and help you grasp the concept of meta descriptions and how they are written and viewed, we will answer the question "what is a meta description" in this article. Additionally, we will also explain its relationship with SEO strategies and provide examples regarding meta descriptions.
How to Write Meta Descriptions?
Some people can find it challenging or confusing to compose the meta description. What is a meta description, then, you might ask? Before describing how to build a meta description, let's first define what it is.
A meta description is a summary—no more than 160 characters—written to inform online searches about the topic of your page. It's a component of your website's HTML. Writing a meta description for each page of your website, including your content pages, and product pages are essential for this reason. Here is how it is described as an HTML feature:
<meta name="description" content="XYZ" />
To write a meta description, make sure you meet the following criteria:
When writing, use creativity and stay away from plagiarism.
You should be specific.
Ensure that your meta description is no more than 160 characters in length.
You should speak in a language that your target audience understands.
You should stay faithful to your content and avoid using clickbait.
What Is The Length of Description in SEO?
The on-page SEO components include elements such as title tags, meta descriptions, code optimization, and other HTML and content-related elements. These factors affect how visible you are on Google.
You need to be aware that there is a limited amount of room for description length in SEO. Google shows descriptions that are no longer than 160 characters on search engine results.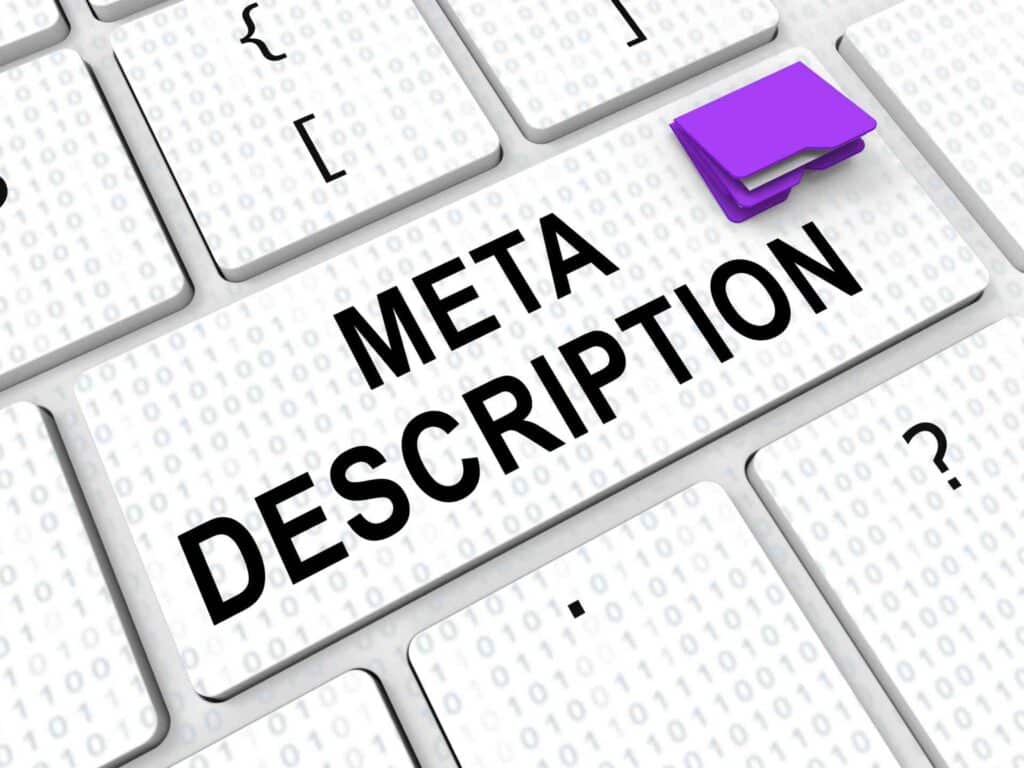 How Do I Find My Meta Description Length?
Utilizing search engines, you may learn the length and details of the meta description. Simply click on the right and select "view source" or "view page source" to accomplish this. You may look for the "meta name=" description" once you have viewed the HTML page. You will then be able to see the meta description data.
Do Meta Descriptions Affect SEO?
When it comes to identifying the connection between SEO and Meta descriptions, there is a great deal of uncertainty. SEO marketing tactics include the creation of meta descriptions. Yoast, one of the most well-known SEO plugins in the world, defines a meta description as a summary of a web page's content that is roughly 155 characters long. All in One, WordPress's one of the best SEO plugins, focuses on meta descriptions among other elements to improve website ranking.
When describing what will be explained on a page, meta descriptions often include the keyword that is searched online. Because of this, they ought to be suitable for SEO. Meta descriptions are said to indirectly affect SEO by attracting clicks to the website and so raising the likelihood of appearing higher in search engine results.
Meta Description Examples
Here are a few examples of meta descriptions to help you understand them better:
Lovely Planet: "Love travel? Discover, plan and book your perfect trip with expert advice, travel guides, destination information, and inspiration from Lonely Planet."
Book Depository UK: "The Book Depository is the UK's largest dedicated online bookseller, offering the largest range of titles in the world, available for dispatch within 48 hours."
Uber: "Learn how you can leverage the Uber platform and apps to earn more, eat, commute, get a ride, simplify business travel, and more."
Conclusion
In this article, we discussed what a meta description is, how long it should be, and how that affects SEO. Additionally, we provided a few examples of meta descriptions. We hope that this article proved helpful in defining meta descriptions and detailing their structure.
FAQs on Writing A Meta Description
What are the benefits of meta descriptions?
Making a good first impression is made easier with the use of meta descriptions because the content of the meta description is what attracts visitors' attention first. They also raise click-through rates because of this. Writing effective meta descriptions while avoiding clickbait also helps you establish credibility.
How can I build an effective meta description?
Creativity, specificity, appeal, approachable language, the right amount of writing length, and sincerity make up an excellent meta description.
What is the ideal meta description length for mobile apps?
For mobile search results, a meta description should be 120 characters in length.